14 June 2020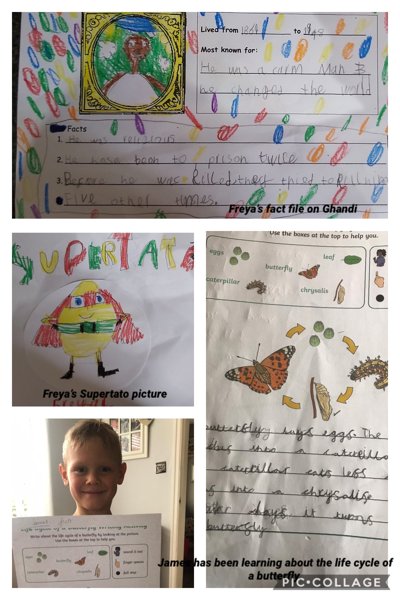 Hi everyone
We have a birthday in our class this week! David is 6 on Monday, happy birthday David from all your friends and teachers!
This week I heard from James and Freya. James has been doing some fabulous science work about the life cycle of butterflies and he has been busy with his maths work. Freya has been doing some research about Mohandas Ghandi and writing a fact file. She has drawn an amazing picture of Supertato and she has been practicing her maths too. You can see some of their work on our blog. If you'd like to send me a message , my email is smiths@st-hughlincoln.trafford.sch.uk
As part of our home learning this week we are going to start a project about the UK. Over the next four weeks we will learn about the countries that make up the United Kingdom, beginning with Scotland. Do you know anyone who is Scottish or have you ever been to Scotland? Our science work will be all about plants, perhaps you could learn the names of some plants in your garden or in a park.
Next week I will see some of you in school and I am very much looking forward to that. Don't worry if you are not coming back yet, I will be keeping in touch with you and I will be putting your home learning on our school website.
Keep up your good work Year 1!
Love from Mrs Smith, Mrs White and Mrs Blackwell
Posted by Mrs Smith
Category: Year 1S